Shoppers looking to buy a new truck in Pennsylvania can put their trust in one model in particular: the 2022 Chevrolet Silverado. This highly capable Chevy remains an icon among full-size trucks, and the new 2022 Silverado changes only enhance its leadership. To illustrate its excellence, our Chevy dealer near Milton, PA, arranged a 2022 Silverado comparison vs. the 2022 Toyota Tundra and 2021 Ford F-150. This showdown makes it clear that few competitors can match the versatility and capability of the Silverado.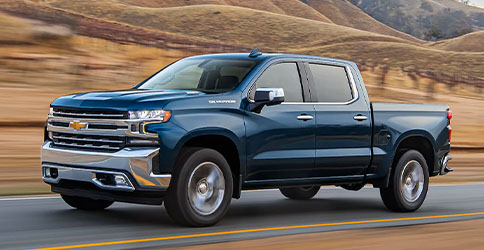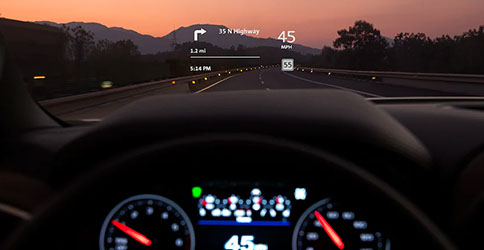 2022 Chevrolet Silverado Engine Specs vs. the Competition
Pennsylvania Silverado buyers can enjoy a wide range of engine options to choose from. A 2.7-liter turbocharged 4-cylinder engine with 420 pound-feet of torque helps the new Silverado outmuscle the F-150 engines, including its less torquey 5.0-liter V8. Meanwhile, the Silverado also offers both 5.3-liter and 6.2-liter V8 powertrains for the ultimate choice in performance. Prefer to buy a diesel truck? The optional Silverado Duramax® turbo-diesel boasts more power than the diesel 6-cylinder available in the F-150. As for the Tundra, it fails to offer anything comparable to this new Chevy diesel.
| Specs | 2022 Chevrolet Silverado 1500 | 2021 Ford F-150 | 2022 Toyota Tundra |
| --- | --- | --- | --- |
| V8 Engine Options | 2 | 1 | 0 |
| Max V8 Torque (lb-ft) | 460 | 400 | N/A |
| Max Diesel Torque (lb-ft) | 460 | 440 | N/A |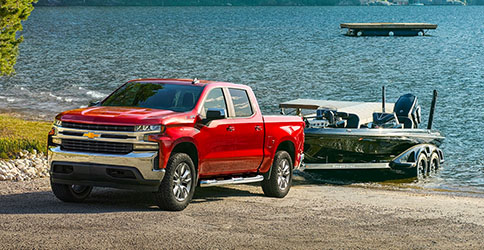 2022 Chevrolet Silverado Towing Capacity vs. Rivals
Hauling what you need in the Silverado is easy thanks to its cutting-edge technology and durable design. The maximum Silverado towing capacity is 13,300 pounds when paired with the turbo-diesel engine, outdoing both the Toyota Tundra and the comparable diesel F-150. As for the base 2.7-liter engine, expect to haul 9,500 pounds -- significantly more than a base F-150. And to make trailering in PA seamless even for novice drivers, the 2022 Silverado 1500 offers up to eight available cameras, Advanced Trailering System technology and more.
| Specs | 2022 Chevrolet Silverado 1500 | 2021 Ford F-150 | 2022 Toyota Tundra |
| --- | --- | --- | --- |
| Diesel Towing Capacity (lbs.) | 13,300 | 12,100 | N/A |
| Built-in trailering app | Available | N/A | N/A |
| Hands-free towing on compatible roads | Available | N/A | N/A |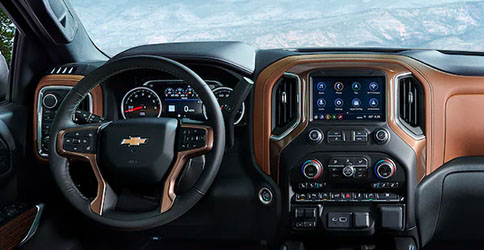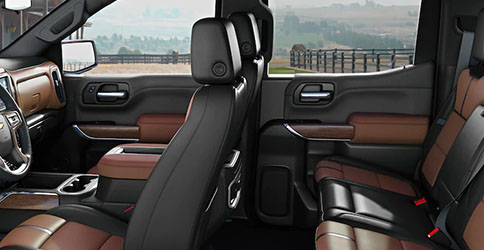 Compare 2022 Chevy Silverado Interior Technology
Many of the new 2022 Silverado changes focus on the interior, which features a variety of impressive new technologies. Chief among these enhancements is a new 12.3-inch digital gauge cluster and accompanying 13.4-inch touchscreen that's standard on the refreshed Silverado trims; that's a larger standard touchscreen than either the Tundra or F-150. The 2022 Chevy Silverado also introduces Super Cruise®, a hands-free, semi-autonomous driving technology that can even work when towing a trailer. This segment leadership continues to put Chevrolet out in front of its competition.
| Specs | 2022 Chevrolet Silverado 1500 | 2021 Ford F-150 | 2022 Toyota Tundra |
| --- | --- | --- | --- |
| Standard Touchscreen size | 13.4 inches | 8.0 inches | 8.0 inches |
| Standard suite of active-safety features | Chevy Safety Assist™ | Ford Co-Pilot 360™ | Toyota Safety Sense 2.5™ |
| Hands-free driving | Available | N/A | N/A |